Derek Bell to Wing Walk for charity Hope for Tomorrow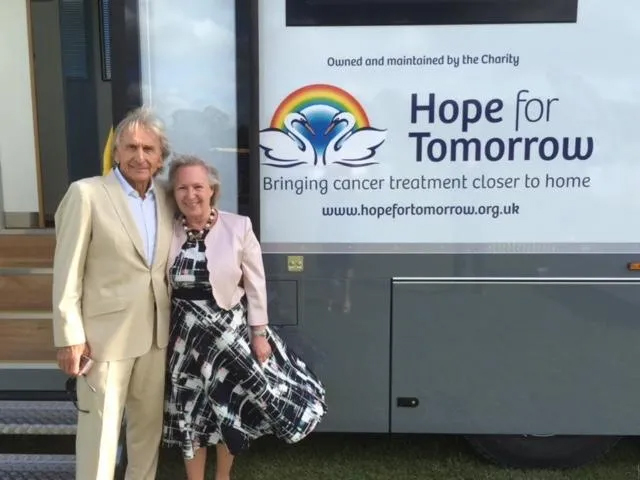 On Monday 21 May 2018 I will be taking to the skies with AeroSuperBatics to wingwalk for 'Hope for Tomorrow', a marvellous charity that I am a proud Patron of. The charity was founded by my good friend Christine Mills MBE in memory of her late husband and my former manager David. I don't quite know whether it's a silly or brave thing for me to do at my age, but quite honestly, it'll never be as brave as those who are currently undergoing cancer treatment. Thanks to the charity Hope for Tomorrow, the money raised helps bring treatment closer to patients' home by providing Mobile Chemotherapy Units enabling them to spend more time with family, friends and loved ones during their treatment.
The work that the charity is doing is quite staggering and I am in awe of Christine and what she has achieved. I simply couldn't say 'no', it's the least I could do. Besides what a great way to raise money for Hope for Tomorrow, standing on the wings of a plane trying to grin! It should be a fun and an unforgettable experience. I do hope that you will sponsor me.https://www.justgiving.com/fundraising/derekbellmbe
Christine Mills, Founder of Hope for Tomorrow said "Having worked with Derek for over 25 years when my husband David was his Manager I am proud that he, and his family, are my greatest friends and that he's taking to the skies to join our "Wings of Hope" team with his son Sebastian who is also my god-son".
It costs Hope for Tomorrow £40 per patient to have their treatment closer to home on one of our Mobile Cancer Care Units and our challenge is to help 600 patients with our target of £24,000.
About the event:
Hope for Tomorrow has teamed up with AeroSuperBatics who
have been in the display flying business for over 30 years, have specialised in
wingwalking since 1987. Flown by highly experienced wingwalking display pilots, the
"Wings of Hope" team shall take to the skies on the top wing of a biplane and experience an exciting series of flypasts, zoom climbs, steep dives and banks at speeds of up to 130mph!
The experience will take place from the home of The Breitling Wingwalkers at the private airfield at Rendcomb, Gloucestershire, a World War 1 grass airfield set in the heart of the beautiful Cotswold Countryside.
The "Wings of Hope" team which includes Christine Mills, Dr Sean Elyan, Baroness Jane Scott, John Bate Williams, Sebastian Bell, and myself, are raising money for "Hope for Tomorrow" in aid of the 'Keep the Wheels Turning' Appeal.