Derek Bell MBE Awarded an Honorary Fellowship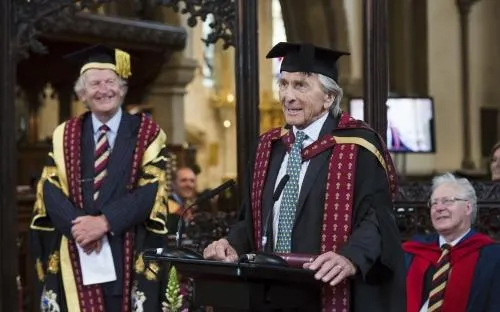 Derek Bell MBE Awarded an Honorary Fellowship of the Royal Agricultural University, Cirencester
The Royal Agricultural University at Cirencester celebrated Convocation, the annual graduation ceremony last week. As a new University town, it was fitting that the Convocation ceremonies were held in the heart of Cirencester and the Parish Church provided the perfect backdrop.
The University held three Convocation ceremonies for its four dedicated Schools: the School of Agriculture, Food and Environment the School of Real Estate and Land Management, the School of Business and Entrepreneurship and the School of Equine Management and Science.
Special Honorary Fellowships were also awarded to people that had made significant contributions to those areas of life in which the University provides education and research. As one of the most prestigious awards that the University can bestow, Derek Bell MBE was delighted to be awarded an Honorary Fellowship.
Derek, an alumni of the university gave a motivational speech to the congregation of students receiving their degrees, in regards to the importance of finding a passion, never giving up and to always aiming high.
Other special guests from the town included the Mayor of Cirencester, Councillor Mark Harris, and the High Sherriff of Gloucestershire, Lady Bathurst.